Description
Practical Skills and Projects for an Abundant Life
Discover how simple changes to your every day can make a big difference. Maybe it's decluttering your home, growing sprouts on your windowsill, connecting with your community or taking on a locavore mini-challenge. Maybe it's going waste-free or falling in love with compost. Inspired by the life-affirming principles of permaculture, all 60 habits will help you reconnect with your ecosystem, save money and celebrate sustainable living.
Wherever you start, this book will help you change your lifestyle in small but significant ways – one powerful, practical habit at a time – towards a resilient, abundant life and a hopeful future for all.
---
Product Details
Published 29 Aug 2023
Murdoch Books
Soft cover, 296 pages, full colour throughout.
ISBN: 9781922351920
---
About the Author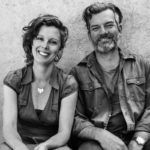 Kirsten Bradley
and
Nick Ritar
left the city to start a small farm called Milkwood 10 years ago, with a dream of living simply and within their means. Since then, they've been growing food, cultivating community and sharing skills for down-to-earth living wherever they've lived or travelled. They are passionate about re-skilling households and communities to create resilient, low-impact and positive futures that are accessible to all. Together, they've spent the last decade farming and educating thousands of students in permaculture skills and design. They now live with their son Asher on a small permaculture homestead in Victoria where they grow food, milk goats, keep bees, forage, teach courses and write books.
www.Milkwood.net