Description
All stickers are 90 mm in diameter with a glossy finish. Printed by a local low-waste printer on 100% post consumer recycled paper.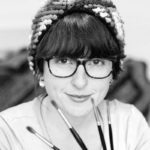 Brenna
spent four years living at Melliodora, the permaculture demonstration site founded by David Holmgren and Su Dennett in Central Victoria. She is currently building a strawbale house and planting her own garden at a permaculture community in the Great Southern, WA. Brenna has worked as an illustrator for several organisations including the Bob Brown Foundation, the Australian Food Sovereignty Alliance, and the Stephanie Alexander Kitchen Garden Program. She is also part of the Grow Do It permaculture teaching team, and regularly collaborates with Milkwood Permaculture and Melliodora Publishing on various projects and publications. Support Brenna on
Patreon
and gain access to digital downloads of her work, as well as behind the scenes footage. Sign up to her newsletter
here
, and
follow her on Instagram
.