Description
You learned the basics of garden design and maintenance through the first book in this series, Life in a garden. Now you can take that knowledge even further with Science in a garden: Activities and projects for the outdoor classroom, Years F–6. Students will follow the journey from theory to final product through the book's six parts: understanding science in the garden, growth in the garden, changes in the garden, animals in the garden, human use of the garden and products from the garden.
Each activity is aligned to the Australian Curriculum: Science and the Australian Curriculum: Technologies as well as the cross-curriculum priority of sustainability. Plus, teachers can use the handy index of curriculum links to assist with their planning.
You will love watching your students deepen their understanding of the outdoor environment and apply their knowledge in real-world scenarios.
---
Part 1: Understanding science in the garden
Part 2: Growth in the garden
Part 3: Changes in the garden
Part 4: Animals in the garden
Part 5: Human use of the garden
Part 6: Products from the garden
Appendix
Published: 30 June 2021
Hawker Brownlow Education
248 pages, paperback, full colour illustrations throughout
ISBN: 9781760941550
Ross Mars
is a highly regarded permaculture teacher, designer and consultant. He is the author of the bestselling books,
Getting Started in Permaculture,
The Basics of Permaculture Design
 and
How to Permaculture Your Life
and has produced two videos on energy efficient housing design and renewable energy systems for power generation. Ross founded Candlelight Farm, a permaculture demonstration site and training centre in Western Australia. Over the past decade, he has delivered dozens of basic, design, advanced and diploma-level Permaculture courses. Both a scientist with a PhD in Environmental Science and an entrepreneur, Mars also manufactures and supplies greywater and rainwater tank systems, and installs waterwise gardens and water-sensible irrigation systems.
---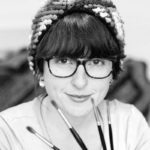 Brenna
spent four years living at Melliodora, the permaculture demonstration site founded by David Holmgren and Su Dennett in Central Victoria. She is currently building a strawbale house and planting her own garden at a permaculture community in the Great Southern, WA. Brenna has worked as an illustrator for several organisations including the Bob Brown Foundation, the Australian Food Sovereignty Alliance, and the Stephanie Alexander Kitchen Garden Program. She is also part of the Grow Do It permaculture teaching team, and regularly collaborates with Milkwood Permaculture and Melliodora Publishing on various projects and publications. Support Brenna on
Patreon
and gain access to digital downloads of her work, as well as behind the scenes footage. Sign up to her newsletter
here
, and
follow her on Instagram
.