Description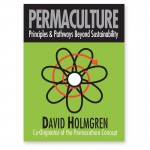 The Essence of Permaculture is an introduction to permaculture, thoughts about the future of the movement and the values and use of the permaculture principles. A great way to expand your knowledge in preparation for the full length book by it's co-originator David Holmgren.
This booklet has been produced using 100% recycled paper on equipment powered by renewable energy. Printed using vegetable based inks in Melbourne, Australia. It has a thick cover page printed in full colour, inside and out.
148mm wide x 210mm high, 31 black and white pages within.
---
David Holmgren