Description
When Olivia and Hamish see a smoky haze coming from their local park, they're ready to spring into action! But it's not a fire – it's a nest of Australian stingless bees that needs their help.
Join Olivia and Hamish as they learn about the bees in our backyards. From Blue-banded and Teddy Bear to Carpenter and Leaf-cutter bees, our two budding Bee Detectives discover how our native bees live, what they like to eat and the important work they do to pollinate plants.
Explore the wonders of Australia's native bees – and be inspired to become a Bee Detective too. It's a real buzz!
Published April 2021
Published by CSIRO
Hardcover, 32 pages, full colour illustrations throughout.
ISBN: 9781486313396
Vanessa Ryan-Rendell is an experienced primary school teacher, gifted education consultant and librarian. She has a keen interest in engaging students in literature while learning more about the natural world, and loves helping children build skills in investigating, problem-solving and creative thinking.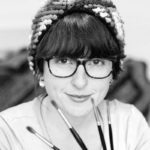 Brenna
spent four years living at Melliodora, the permaculture demonstration site founded by David Holmgren and Su Dennett in Central Victoria. She is currently building a strawbale house and planting her own garden at a permaculture community in the Great Southern, WA. Brenna has worked as an illustrator for several organisations including the Bob Brown Foundation, the Australian Food Sovereignty Alliance, and the Stephanie Alexander Kitchen Garden Program. She is also part of the Grow Do It permaculture teaching team, and regularly collaborates with Milkwood Permaculture and Melliodora Publishing on various projects and publications. Support Brenna on
Patreon
and gain access to digital downloads of her work, as well as behind the scenes footage. Sign up to her newsletter
here
, and
follow her on Instagram
.